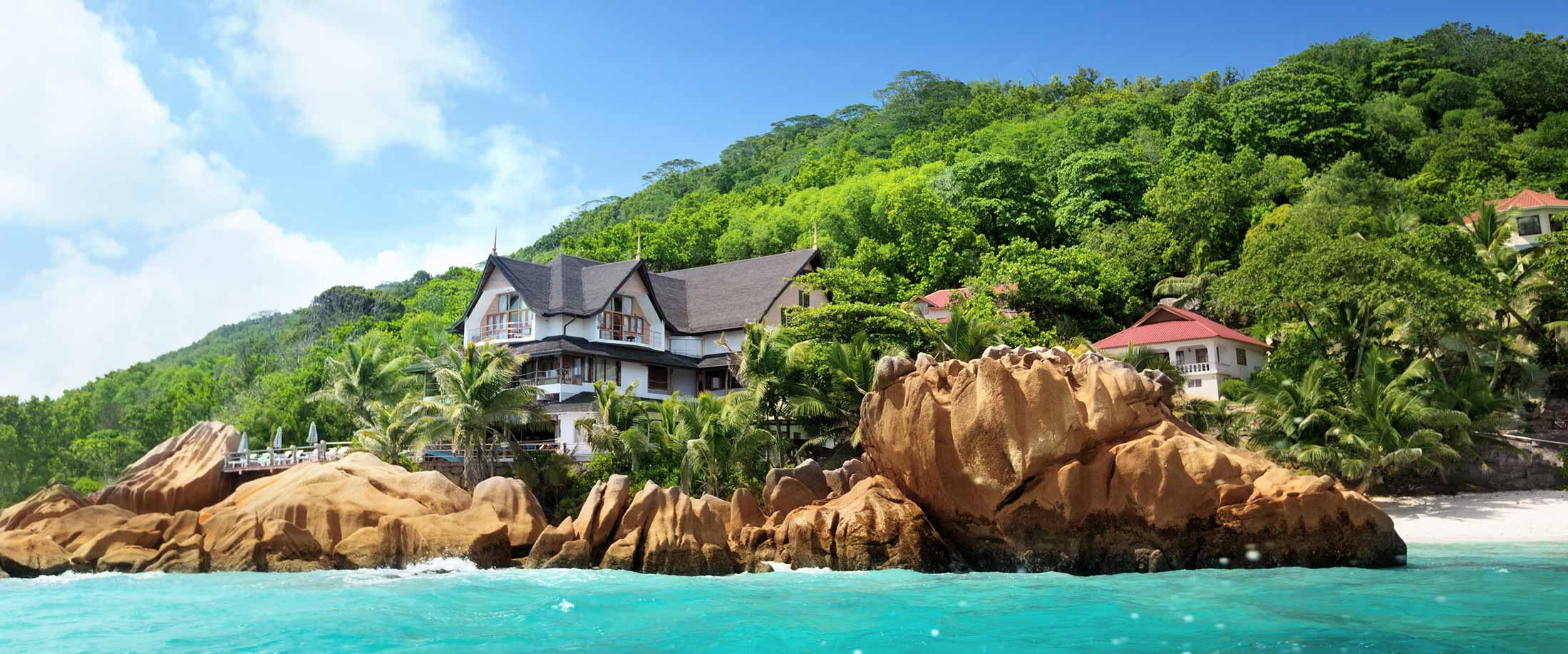 Building a roadmap for low-impact, high-value tourism that preserves the beauty and ecosystems of Seychelles while developing sustainable infrastructure and boosting the economy.
The 115 islands of Seychelles form an archipelago in the Indian Ocean. Boasting world renowned natural heritage, pristine beaches, and clear tropical water, the small island nation is a beloved tourism destination. Over the last 20 years, the number of tourists to the islands more than doubled, reaching more than 380,000 visitors in 2019. Cruise tourism to the islands is growing as well, expanding from 15,600 arrivals to 44,000 arrivals in less than 10 years.  
Tourism elevates the quality of life of residents by providing higher income generating opportunities and boosting the economy. Prior to the pandemic, the industry contributed 42% of the country's gross domestic product (GDP) and employed over two-thirds of the workforce. 
However, tourism also places increased pressure on the islands' limited natural resources and infrastructure. If tourism grows exponentially, it risks damaging the country's fragile coastal ecosystems and reducing the quality of life of residents by competing for the same resources. As climate change also increasingly impacts the region, Seychelles' leadership recognizes the need for continued monitoring of visitor impacts and proactive destination management. To ensure environmental protection, a quality visitor experience, and the well-being of locals, tourism development decisions are based on the needs and resources of the islands. This is determined by regular carrying capacity studies. 
Our Role
In 2019, Sustainable Travel International conducted a new carrying capacity study for the Seychelles Ministry of Tourism, Civil Aviation, Ports and Marine. The study examined the implications of continued tourism growth in three of Seychelles' most popular destinations: La Digue, Mahe, and Praslin. 
The carrying capacity of a destination determines the ideal number of international arrivals that can visit at the same time without causing destruction of local resources. It is not a static number, but rather can fluctuate over time based on the destination's ability to handle visitors – for instance, whether or not there is sufficient waste management infrastructure in place. The goal of this type of study is to create balance and a sustainable tourism industry – i.e. determine how to generate economic growth while ensuring environmental protection, a quality visitor experience, and the well-being of local residents. 
Our team worked with local stakeholders, such as business owners, government officials, scientists, and residents to determine priority issues. Based on this input, we gathered data on current social, economic, infrastructure, and environmental conditions such as the amount of waste and emissions generated by hotels, the number of cruise ship passengers, the ratio of foreigners to locals employed in tourism, and the hotel occupancy rate. We then analyzed how different levels of tourism growth would affect these conditions and whether it would lead to problems, such as overwhelmed utility infrastructure or resident dissatisfaction. 
We also gathered data on the visitor experience to understand the current conditions and visitors' thresholds for crowding. For instance, visitors were shown photos of different locations with varying degrees of crowding (people, boats, beach chairs, etc.) and asked to rate the acceptability of the conditions. GPS tracking was used to map visitor movement, quantify the level of density at each area, and identify potential areas of overuse or congestion.
Managing hotel development and recovery from the COVID-19 pandemic was a top priority for all stakeholders. After analyzing various scenarios, we determined that moderate tourism growth over the next three years provides Seychelles the best chance of stimulating the economy and increasing visitor expenditure without overtaxing the natural resources and infrastructure. Based on this research, we developed a roadmap of policy and management recommendations for Seychelles to create a low-impact, high-value tourism industry that balances growth with risk. Some of the recommendations were as follows:
Reduce pressure on existing waste management systems, such as landfills and wastewater treatment plants, which are already at capacity by building new facilities and reinforcing the ban on single-use plastics. 

Lessen resource intensity by requiring the use of water or energy-saving devices, investing in rainwater harvesting, and enforcing the vehicle quota as well as building codes that promote energy efficiency . 

Develop cultural and culinary experiences to complement the current visitor experience, which is based almost entirely on the beaches, and increase the amount of tourist dollars that flow into local communities.

Temporarily halt the construction of new tourism accommodations on La Digue to avoid economic losses brought on by low occupancy rates. This recommendation was adopted in August 2021. More details on this decision can be found

here

.  

Develop a contingency and recovery plan from the COVID-19 pandemic that includes health and safety guidelines for tourism enterprises and reopening strategies.

Design a Tourism Capacity Indicator Framework to continually monitor the destination's carrying capacity and regulate tourism growth accordingly.
Protect the Places You Love
Give back to conserve our planet's most vulnerable destinations and empower the people who live there. Join the movement today.
Stay Connected
Get our email updates to see how we're protecting our planet's most vulnerable and treasured destinations