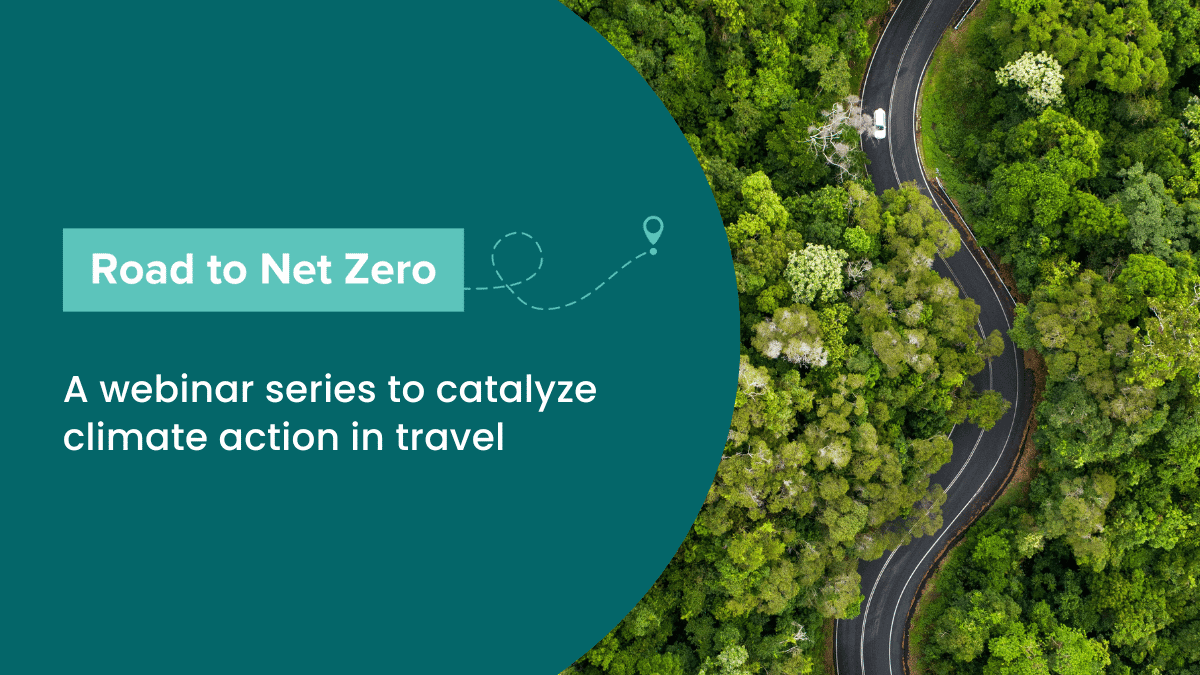 Sustainable Travel International announces Road to Net Zero webinar series
Each webinar will focus on a different topic related to climate action in travel, with the first slated to explore the effectiveness of forest carbon offsets as a climate solution.
SEATTLE, WA (April 4, 2023) – Today, Sustainable Travel International announced it will host a new webinar series, Road to Net Zero, focused on catalyzing climate action in travel. The series aims to support companies, destinations, and individuals on their journey to net zero travel by demystifying confusing or controversial topics and highlighting real-life examples of climate action in practice. 
It's readily apparent that in order to prevent climate catastrophe, the world must take swift, drastic action to reach net zero emissions as underscored by the latest report from the United Nations Intergovernmental Panel on Climate Change (IPCC). The stakes are especially high for travel and tourism – an industry that is highly dependent on at-risk assets like coral reefs, beachfront resorts, and snowy ski slopes. Over the past year and a half, more than 450 organizations signed onto the Glasgow Declaration on Climate Action in Tourism, pledging to reach net zero as soon as possible before 2050. As a leading provider of travel-oriented climate solutions, Sustainable Travel International is well-positioned to help signatories deliver on their commitments. 
"We are at a point where the goal is clear and there is a strong desire to change, but we continue to hear that stakeholders don't know how to translate their aspirations into action," said Paloma Zapata, CEO of Sustainable Travel International. "Our Road to Net Zero webinar series aims to cut through the noise by providing stakeholders with realistic ideas and concrete guidance that will help them mitigate the carbon footprint of their travel." 
Each webinar in the series will take a deep dive into a different aspect of climate action in travel, from lower carbon products and consumer engagement to investments in nature, technology, and infrastructure. The sessions are free to attend and will bring together subject-matter experts and industry professionals to shed light on challenging or abstract topics. 
The first webinar, "Forest Carbon Offsets: License to Pollute or Critical Climate Solution?" is set to take place on Thursday, April 20. As its title suggests, the inaugural webinar will delve into a topic that has received considerable attention in recent months: the effectiveness of forest carbon offsets and the role they should, or should not, play in the transition to net zero travel. During the live session, Sustainable Travel International CEO, Paloma Zapata, will explore critiques of forest carbon offsets head-on and facilitate a discussion with Marc Baker and Jo Anderson of Carbon Tanzania, a social enterprise with extensive experience implementing forest conservation projects and quantifying emissions reductions. The webinar falls just two days before Earth Day, and fittingly aligns with this year's "Invest in Our Planet" theme. To register for the webinar, click here. 
For more details about the Road to Net Zero series or to be notified of upcoming webinars, visit sustainabletravel.org/road-to-net-zero-webinar-series/. 
###
SUSTAINABLE TRAVEL INTERNATIONAL
Sustainable Travel International is a mission-driven organization dedicated to protecting and conserving our planet's most vulnerable destinations. We are transforming tourism's impact on nature and people by working alongside local communities, engaging travelers and businesses in responsible practices, and strengthening destination management. Through our work, we aim to safeguard nature, combat climate change, and empower communities to preserve the integrity of destinations around the globe. To learn more visit www.sustainabletravel.org.
Tags: business carbon offsets, business climate action, carbon footprint, carbon measurement, carbon offsets, carbon reduction, tourism climate action