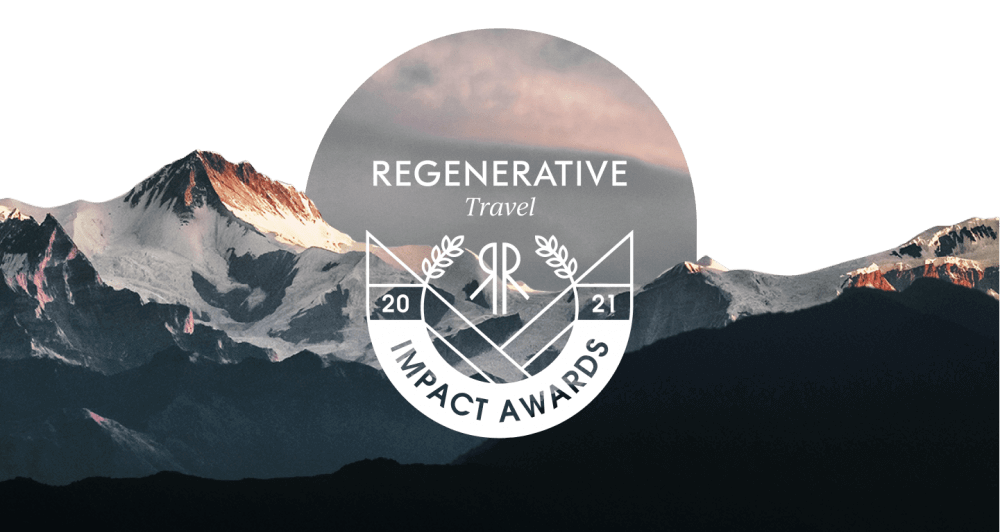 Paloma Zapata Announced as Judge for Inaugural Regenerative Travel Impact Awards
With the help of a group of esteemed judges, Regenerative Travel's newest initiative will shine a light on projects and people driving change in the industry.
Sustainable Travel International is proud to announce that our CEO, Paloma Zapata, has been selected as one of the judges for the upcoming Regenerative Travel Impact Awards. With entries still open, these new awards work to continue the brand's mission of highlighting initiatives dedicated to social and environmental impact, building community, and serve as a catalyst to encourage purposeful transformation within the travel industry and beyond.
Regenerative Travel will engage its network to help uncover inspiring examples of initiatives and individuals striving to create abundance for all – fostering a new dawn for travel that is non-extractive, immersive, inclusive, innovative and equitable. Paloma is part of a hand-selected judging panel recognised for their trailblazing dedication to regeneration in their respective fields. In alignment with Sustainable Travel International's mission, Paloma has been selected to judge the sustainable destinations category. The thought leaders will carefully analyze eligible entries to create a definitive list of finalists that represent the highest standard of regenerative practices.  
Regenerative Travel is welcoming entries for these free-of-charge awards up until the 25th of June and as a brand that loves to celebrate and uplift other trailblazers, we encourage any relevant initiatives or individuals to submit an application here. After review by the judges, the shortlist will be announced on July 15. To drive public engagement a People's Choice award will be open for voting thereafter until August 15. Overall winners within each category will be awarded at the 2021 Regenerative Travel Summit and championed across the brand's platforms thereafter.
Categories
Regenerative Hotelier of the Year: Hotel owners or managers who are catalysts for change and are innovating hospitality to promote positive social and environmental impact.
Regenerative Travel Initiative of the Year: An initiative in the travel and tourism sector that has drawn attention to social and environmental issues, inspiring action
Regenerative Activist of the Year: A passionate campaigner recognised for their contributions to bring about social and environmental change
People's Choice: Readers will have the opportunity to vote for their favorite individual or project.
Conservation: Initiatives working to restore and regenerate ecosystems, biodiversity, or critical species.
Food and Agriculture: Ideas that restore food systems—improving food quality and availability, supporting farmers, and promoting healthy ecosystems.
Climate: Innovative ideas that bring greenhouse gas emissions to zero (and beyond) or uplift nature's carbon cycle.
Education: Projects that deepen or broaden education's impact, promoting equity and understanding.
Health and Wellness: Holistic and restorative approaches that promote well-being.
Community: Initiatives that promote equity and honour culture for vibrant, resilient communities.
Judges Featured
We are honored to introduce each of these respected judges, who have been meticulously chosen as experts and professionals in their respective fields for their experience and industry know-how.
Social Impact: Martinique Lewis, President of the Black Travel Alliance
Travel Media: Juliet Kinsman, Sustainability Editor at Conde Nast Traveller
Food and Agriculture: Anthony Myint, Chef, founder of ZeroFood Print
Marine Conservation: Lea d'Auriol, Founder of Oceanic Global
Sustainable Destinations: Paloma Zapata, Sustainable Tourism
Community Engagement: Api Movono, Senior Lecturer in Development Studies
Hospitality and Culture: Sheldon Scott, Director of Culture Eaton Workshop
Wildlife Conservation: Dr Paula Kahumbu, CEO of WildlifeDirect
### 
About Sustainable Travel International 
Sustainable Travel International is a non-profit organization dedicated to protecting and conserving our planet's most vulnerable destinations. We are transforming tourism's impact on nature and people by working alongside local communities, engaging travelers and businesses in responsible practices, and strengthening destination management. Through our work, we aim to safeguard nature, combat climate change, and empower communities to preserve the integrity of destinations around the globe. To learn more visit www.sustainabletravel.org.
About Regenerative Travel:
Regenerative Travel is a shared benefit corporation and booking platform providing marketing and hospitality services to a network of independently owned eco-luxury boutique hotels dedicated to the highest levels of social and environmental impact located in over 24 countries worldwide. Through sharing individual best practices and through collaboration, Regenerative Travel enables the Regenerative Resorts hotel collection to work together to achieve significant economies of scale and to make a deeper impact.
Media Contact: 
Kerry Skinner