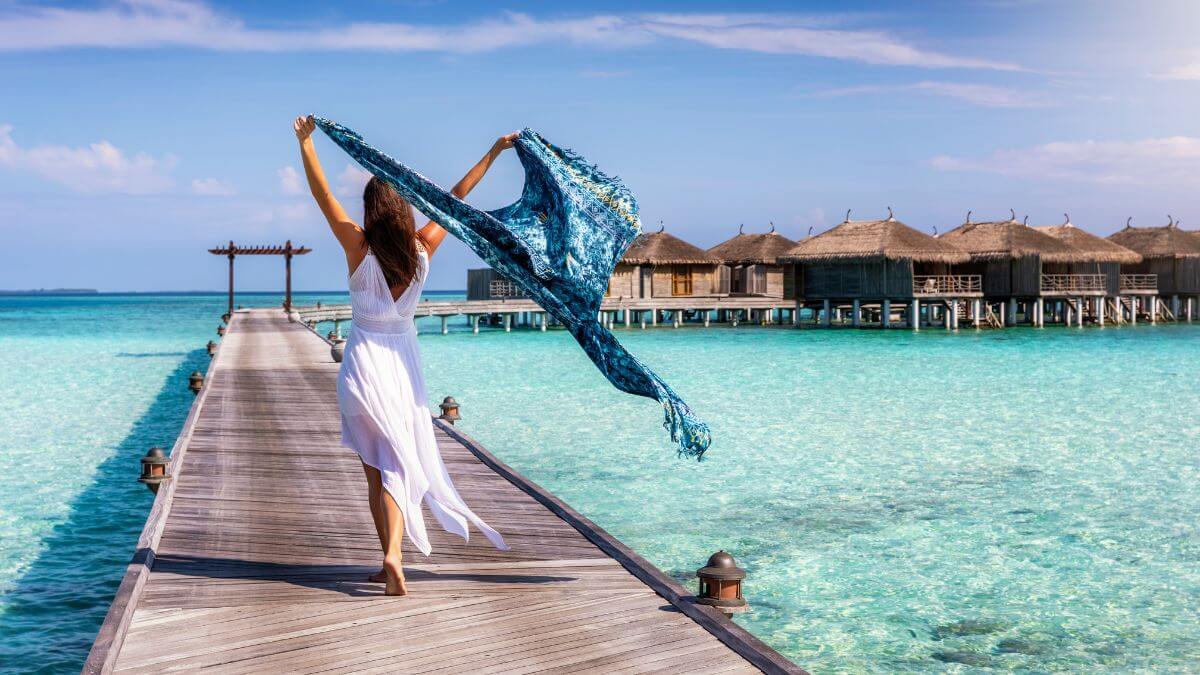 Can Luxury Travel Be Sustainable?
For many people, traveling goes hand-in-hand with enjoying the finer things in life, whether that be private tours, tasting menus, or relaxing at a lush resort. However, in recent years, we've seen a push towards sustainability throughout the travel industry in terms of environmental and socio-cultural responsibility.
There's a common misconception that luxury travel inherently cannot be sustainable, but this is far from the truth. In fact, many luxury travel brands and customers are leading the way in green innovations and community engagement.
Taking a more sustainable approach to travel doesn't necessarily mean giving up your favorite five-star hotels or indulgent activities. Making mindful choices can dramatically change the impact you have while abroad. Let's take a look at the evolving world of luxury sustainable travel, as well as our top sustainable travel tips for high-end vacations.
A changing luxury travel landscape
Luxury travel has historically come with a connotation of excess. However, it's impossible to ignore the impact that irresponsible travel can have on the planet – and luxury travelers are listening.
Recent studies have indicated that luxury travelers prioritize sustainability when booking their trips. Social and environmental impact is front of mind while making travel decisions, whether it's choosing where to stay, how to get there, or what to do while on vacation. Research from American Express indicates that 62% of travelers want to be more thoughtful about where and how they travel, and 81% of travelers want the money they spend while traveling to go back to the local community.
Phinda Rock Lodge at &Beyond Phinda Private Game Reserve © &Beyond
A study from Virtuoso also indicated that 74% of travelers are willing to pay more to travel sustainably – as long as they know where their money is going. Luxury travelers often have more financial resources available when planning a trip, and therefore, can be more selective and make conscientious decisions throughout.
Luxury travel companies are taking note of this shift towards sustainability, and many are incorporating it into their offering to create an elevated experience.
What is sustainable luxury travel?
Information about the impact of travel is more readily available now than ever before. Public awareness of sustainability initiatives is also increasing, and this cultural shift has made it much easier to make thoughtful, informed decisions while traveling.
Traveling sustainably doesn't necessarily mean sacrificing luxury. In fact, some of the most luxurious travel experiences on the market today are also some of the most sustainable. Here are some of the most effective ways luxury travelers and tourism companies can transform their impact.
1. Contribute to wildlife conservation initiatives
For many people, being totally immersed in nature and seeing animals you wouldn't have access to at home is a priceless experience. Sadly, many iconic wildlife species are endangered due to poaching, habitat loss, and other threats. Luxury travelers are in a unique position to support conservation efforts in the destinations they visit. To facilitate this, many luxury travel companies have their own conservation initiatives or donate a portion of their proceeds to support local efforts.
While any safari is sure to be exciting, those with a conservation component can be even more thrilling and memorable. Since creating the Phinda Private Game Reserve in South Africa three decades ago, luxury safari operator &Beyond has successfully repopulated cheetahs and other species. They now offer once-in-a-lifetime experiences that engage travelers in their wildlife protection efforts. For instance, guests can witness a rhino de-horning or join a researcher in monitoring pangolins reintroduced to the reserve.
Indagare is another luxury travel company that supports wildlife conservation in Africa. The company contributes 1% of its revenues to the Long Shield Lion Guardians, an initiative that protects lions by alleviating conflicts with local farmers, so travelers make a difference with every trip.
A pride of lions playing in Zimbabwe.
"Even if it's not the reason that they went on safari, we've found that the impact aspect tends to be what people remember the most out of the trip," says Colin Heinrich, Associate Director of Global Impact at Indagare. "Even more so than seeing their favorite animals on a game drive."
Some upscale brands are even doing their part to regenerate degraded habitats. In the Maldives, Banyan Tree Vabbinfaru supports reef restoration by transplanting coral fragments and using electrified artificial reefs. When it comes to seagrass, Six Senses Laamu is educating tourists and locals about its value to change traditional perceptions that are the root cause of removal.
When booking your trip, prioritize travel providers with conservation initiatives in place. By doing so, you can protect our natural world and its incredible wildlife.
2. Finance climate action projects
Another way that luxury travel can protect the planet is by funding climate action. Many climate change solutions require high levels of investment to succeed. Luxury travelers and companies can help fill this gap by financing activities that mitigate or adapt to the impacts of climate change.
Carbon offset programs offer a straightforward way to invest in climate initiatives around the world, like reforestation or renewable energy. To get started, simply measure your emissions from air, road, or boat travel with our carbon footprint calculator and purchase offsets equivalent to your emissions. You can enter the metric tons or dollar value if you'd like to offset more or contribute a custom amount.  Your dollars are then distributed across our diverse portfolio of forestry, energy, and blue carbon projects. These projects fight climate change through varying approaches. Some projects prevent climate-warming emissions by curbing forest loss. Some increase the earth's capacity to remove carbon from the atmosphere through ecosystem restoration. Others reduce fossil fuel dependence by accelerating the transition to clean and efficient energy systems.
A community member monitors land use to prevent deforestation as part of the Yaeda Valley REDD carbon offset project in Tanzania. © Carbon Tanzania
We also partner with tour operators, hotels, private jet companies, and other businesses to offer carbon offsets on a larger scale. When planning your travel, consider working with companies offering built-in carbon offsets for convenience. For example, Indagare, Travel Beyond, and TCS World Travel are a few luxury travel companies that partner with us to offset their trips.
"Until they create a long haul electric airplane, there will always be emissions from travel. People aren't going to stop visiting Paris. So we want to ensure that we're doing what we can to make travel as sustainable as possible right now," says Heinrich. "That will mean educating travelers and helping them to design the most sustainable itineraries possible, and hopefully at some point we'll be able to start booking electric flights. But in the meantime, we'll offset 100% of the trips unavoidable emissions on our own."
You can learn more about our carbon offset programs for businesses here.
3. Choose your travel method thoughtfully
On the subject of climate, it's important to address the elephant in the room – every trip still comes with a carbon footprint. Transportation alone accounts for nearly half of tourism's carbon footprint. Whether you're flying or driving to your destination, you'll still be consuming fuel and generating carbon emissions to get from point A to point B.
Certain forms of travel cause more carbon emissions than others. It's no secret that when it comes to high-end travel, private jets are the top culprit. According to one study, flying private produces 5 to 14 times more pollution than traveling on a commercial airline. Undoubtedly, the best way to cut emissions is to give up private jets, but the reality is that for many people, this will still be the most convenient mode of travel.
Interestingly enough, private jet users can potentially be at the forefront of the clean air travel movement. Emerging technologies like hydrogen and electric-powered aircraft will initially be viable only for smaller planes and shorter trips. Because of this, private jets are well-suited to be early adopters of these technologies. Private jet users are also in a better position to pay the premium for sustainable aviation fuels (SAF). By investing in climate innovation, private jet users can help scale up sustainable technologies and fuel, making them more accessible for the commercial aviation sector.
Alice, the first all-electric passenger aircraft, takes flight. © Eviation
On top of this, private jet users should consider investing in climate action projects by purchasing carbon offsets. One notable feature of our carbon calculator is its ability to calculate and offset emissions from different types of private jets. To get started, simply visit the calculator and select the charter flights option.
If you're flying private and have a flexible schedule, book an empty leg flight already headed to your destination. These private planes would have been deadheading without passengers and are often available at a discounted price. Since these flights would have been in the air anyway, this is a way to reduce your environmental impact while flying private. Ask your preferred operator if they offer empty leg flights. Some charter companies like Jettly, Luxaviation, Victor, XO, and Wheels Up list upcoming empty legs on their apps or websites.
For those flying commercial, compare carbon emissions before making a decision. You might be surprised to find that lowering your emissions doesn't inherently mean compromising your comfort while on the go. Newer aircraft like the Boeing 787 Dreamliner and Airbus A-350 900 are more fuel-efficient than older models. These newer aircraft also offer some exciting new features and comforts for travelers. For example, the 787-9 Dreamliner offers advanced pressurization and oversized electrochromic windows that dim at the touch of a button. Google Flights and many other booking websites now allow you to compare flights by carbon emissions.
Traveling by train when possible is an even better way to reduce your environmental impact. Especially consider this for shorter connections or closer-to-home trips. In some instances, the train ride itself can be a luxury travel experience. Think about Japan's sought-after Cruise Train Seven Stars, India's Maharajas Express, or the Venice Simplon-Orient-Express from London to Venice. These trains harken back to a glamorous bygone era, with the bonus of being more sustainable than flying or driving.
The Piano Bar on board the Venice Simplon-Orient-Express. ©Belmond
4. Focus on community-based tourism
In addition to environmental responsibility, it's also important to keep social and economic sustainability in mind. Focusing on local, community-based tourism is a way to make sure you positively impact your final destination. Additionally, community-based tourism gives you access to life-changing experiences and provides an opportunity to immerse yourself in the local culture.
Economic leakage is a particularly big challenge in popular tourist destinations. This phenomenon happens when most of the money generated through tourism goes to international companies rather than the local economy. The economic impacts of leakage are significant – reaching up to 70% in Thailand and 80% in the Caribbean.
Leakage happens in various ways – for example, hotels, restaurants, and shops might import foreign goods or hire foreign workers to staff their businesses. Additionally, there is export leakage when there is an overreliance on foreign investors for tourism facilities and infrastructure rather than local entrepreneurs.
When unbalanced, these practices can prevent local communities from benefiting from luxury tourism. To prevent economic leakage while traveling, support businesses with local supply chains and seek out experiences that include the local community. These are one-of-a-kind experiences that you won't find anywhere else, and they also promote valuable cultural exchange.
One great example is NIHI Sumba, a secluded island resort in Indonesia that offers incredible community-based experiences. Visitors can take classes in the ancient art of Ikat weaving or go spearfishing with local fishermen. The resort also offers cooking classes using ingredients from on-site gardens and fresh-caught fish. Seeking out farm-to-table dining experiences is not only a great way to enjoy delicious local cuisine but also a great way to ensure that the food you are eating is sourced locally.
Women weaving traditional Sumbanese ikats at NIHI Sumba. © NIHI Sumba
By thinking local, tourism companies can create more authentic and distinctive experiences for their guests. For many travelers, these local experiences are something they'll never forget.  "What we've found is that what people remember most are those impact and sustainable opportunities of meeting local communities and learning about their ways of life," says Heinrich.
Another way to prevent leakage is choosing locally owned companies and those that hire from the local community, not just in lower level positions but also in management roles. "A lot of these organizations have put a huge amount of effort into creating management training opportunities," says Heinrich, citing Great Plains Conservation as a lodge that hires all of their managers from the local community.
Many luxury travel companies make their trips even more meaningful by donating to community development initiatives in the destinations where they operate. By choosing a travel provider with a philanthropic commitment, your trip can support causes like education, women's empowerment, and healthcare that improve the wellbeing of the communities you visit.
5. Look for boutique travel experiences
Another issue in some destinations is a phenomenon known as overtourism. This happens when the destination becomes overwhelmed by an excessive number of visitors. When a destination receives more visitors than it can handle, it can overburden the local environment and infrastructure and affect the quality of life for residents.
Luxury travel tends to reduce strain on local communities since it favors boutique travel experiences. Many luxury hotels and tours only take on a small number of guests at a time. Not only does this place less pressure on local communities and the environment, but it also creates a very exclusive experience, which is more pleasurable for many travelers.
One excellent example of this sustainable luxury is Variety Cruises, a company that offers small-boat cruises all over the world. Each cruise hosts less than 71 guests, which reduces the impact on destination ports while providing each guest more personal attention. These cruises focus on destinations that are off the beaten path and that are often not accessible to large cruise lines.
A trip with Variety Cruises. © Variety Cruises
Similarly, secluded boutique resorts are the height of luxury when it comes to accommodations. While the construction of massive resorts can cause extensive environmental destruction, boutique properties typically have a smaller footprint. Look for luxury resorts that see the value in preserving their natural surroundings, and you'll be rewarded by untouched natural beauty.
Böëna Wilderness Lodges has acquired nearly 2,000 acres of forest to protect fragile areas in Costa Rica. Guests who stay at their properties get a front row seat to nature, where they can listen to birds and watch monkeys right from their balcony.
These are just a couple examples of boutique travel experiences – there are plenty of small-scale luxury sustainable travel options worldwide for all types of travelers.
6. Stay in eco-chic accommodations
Staying in eco-friendly lodging doesn't have to mean trading in stylish, modern amenities for bare-bones or rustic digs. Some of the most lavish properties are leading the way in terms of eco-conscious design. These properties pay great attention to detail in creating an impeccable experience for their guests. Sustainable design principles can further increase the wow factor by making a property more aesthetically appealing and unique.
Luxury properties often have the resources to invest in innovations like clean energy or smart energy management systems. For example, Coulibri Ridge is a chic, self-sustainable luxury resort in Dominica. Every aspect of the resort was designed to minimize its environmental impact, all the way down to furniture made from recycled wood and the angle of the roof. The property harnesses nature to generate its own solar and wind power, and harvest rainwater. The resort's self-sufficiency allows it to be located high up on a ridge, offering guests sweeping views of the island's lush green landscape.
Another breathtaking property that combines contemporary luxury with responsible design is Wilderness Safaris' Bisate Lodge in Rwanda. These exclusive villas were built with more than environmental sustainability in mind. Their design is rooted in the local culture and blends traditional Rwandan craftsmanship with luxe amenities. The nest-like villas feature local touches like woven textiles, volcanic rock fireplaces, and furnishings adorned with "imigongo" art. Along with supporting local artisans and suppliers, these special touches evoke a unique sense of place.
When looking for accommodations for your trip, look for properties intentionally designed with sustainability features and constructed with minimal environmental impact.
7. Support innovative zero-waste initiatives
Indulgent experiences are often associated with excessive waste. But luxury travel brands have the resources and connections to reduce and better manage their waste. Many zero-waste initiatives also support one-of-a-kind guest experiences.
For example, Soneva Fushi has an on-site glass blowing studio where guests can learn how to blow glass and create their own artwork. The glass blowing studio uses recycled bottles from Soneva Fushi and other resorts in the Maldives.
Six Senses is another sustainable resort group that offers industry-leading solutions. Their properties have beautiful organic rooftop gardens to recycle their organic waste. These gardens produce fresh vegetables used throughout each resort's on-site restaurants, eliminating packaging waste. They also work with their suppliers to reuse shipping crates and reduce waste throughout the supply chain.
To minimize your environmental footprint, look for tourism companies that publicize concrete details about their waste reduction measures. Also, think about some small changes you can make, like using apps for your travel documents and bringing a reusable water bottle on your trip.
8. Look to informed travel advisors and sustainability certifications
When it comes to sustainability, knowledge is key. If you'd rather leave the research to the experts, seek out informed travel agents and other industry experts.
Partnering with an expert travel advisor always makes luxury travel planning easier, but it's also an effective way to ensure your trip is sustainable. Look for travel advisors who are educated on their suppliers' sustainability initiatives and are committed to planning responsible travel.
A group of tourists observes cheetahs on an African safari.
By working with a travel advisor, they can take care of the vetting providers and experiences for you. For example, Global Travel Collection is a group of luxury travel advisors that plan vacations all over the world. They partner with our team to provide sustainability education for their global network of advisors. Advisors have access to an online training course, a sustainable trip planning guide, and workshops that dive into their suppliers' sustainability practices.
Certifications are another efficient way to identify hotels and operators with sustainability measures. Some top sustainability certifications to watch for include Green Key, Travelife, Green Globe, EarthCheck, Biosphere, and other GSTC-recognized standards. Another option is to look for curated collections of sustainable properties, like Beyond Green. 
What's the verdict?
As you can see, luxury travel and sustainability can indeed co-exist. Many travel brands are redefining luxury, and travelers have countless opportunities to participate. While sustainable travel is better for the planet from an ethical perspective, it also enhances many luxury experiences.
"People want to travel sustainably because it's just a fun way to go about it." says Heinrich. "If you care about these sorts of things, then it is naturally going to be something that interests you."
Sustainable travel starts with being intentional and educating yourself on best practices. A simple way for companies or travelers to get started is by becoming a member of Sustainable Travel International. Along with supporting our sustainability initiatives around the globe, members receive access to valuable resources like our sustainable business guide and travel better best practices.
When planning your upcoming trip, don't forget to calculate your footprint and support climate action with our online carbon calculator.
Tags: boutique travel, Conservation, eco-chic, ecotourism, ecotravel, luxury tourism, luxury travel, responsible travel, sustainable tourism, sustainable travel, travel, travel guidance, travel tips