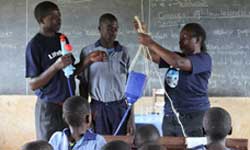 LifeStraw Water Filters for Rural Kenya
By distributing water filters to families in rural Kenya, this project eliminates the need to boil water over wood fires to make it safe for drinking. The new filters allow families to purify their
drinking water without releasing harmful pollutants into the air. They also reduces the burden of firewood collection, which typically falls on women and girls, and alleviate pressure on local wood resources. 
Where & Why
The Sustainable Deployment of the LifeStraw Family in rural Kenya is an ongoing Clean Development Mechanism project in the Western Province of the Republic of Kenya that has been independently verified by The Gold Standard. The project generates carbon reductions through production and distribution of LifeStraw Water Filters that eliminate the need for fuel combustion to sanitize potable water fit for consumption. Each filter requires no energy to use and has been shown to provide 18,000 liters of clean water for a family of five over a three year period. At the end of the three year period each filter will be replaced using the funds generated from carbon credits.
Over 1,000,000 individuals have been targeted as recipients based on the results from independent research and three stakeholder meetings in the region.
In addition to supporting the UN Millenium Development Goal of halving the proportion of the population without sustainable access to safe drinking water and sanitation, this project also reduces depletion of natural resources related to the cutting of trees, relieves female children and mothers of families from collecting firewood to boil water, improves indoor air quality to reduce risk of ill-health in women and children, reduces daily fuel costs on low-income regions and provides beneficial employment to local residents during the established distribution, monitoring and replacement phases of the project.
Environmental Benefits
Mitigates climate change by preventing CO2 emissions from burning wood

Reduces pressure on Kenya's scarce wood resources
Community Benefits
Improves rural access to clean drinking water

Reduces waterborne diseases and indoor air pollution

Decreases time spent collecting firewood, particularly by women and girls

Reduces the financial burden of water treatment
Provides employment to local Kenyans
Project Type
Location
Annual CO2 Reduction
2,073,328 metric tons CO2e (annual average for crediting period)
SDGs Supported
Verification Standard
Project Developers
Project Documents
Offset your Travel Footprint
Calculate and offset the carbon footprint of your flight in seconds via our online carbon calculator! Already know your carbon footprint? Click the option to "offset now."
Stay Connected
Get our email updates to see how we're protecting our planet's most vulnerable and treasured destinations