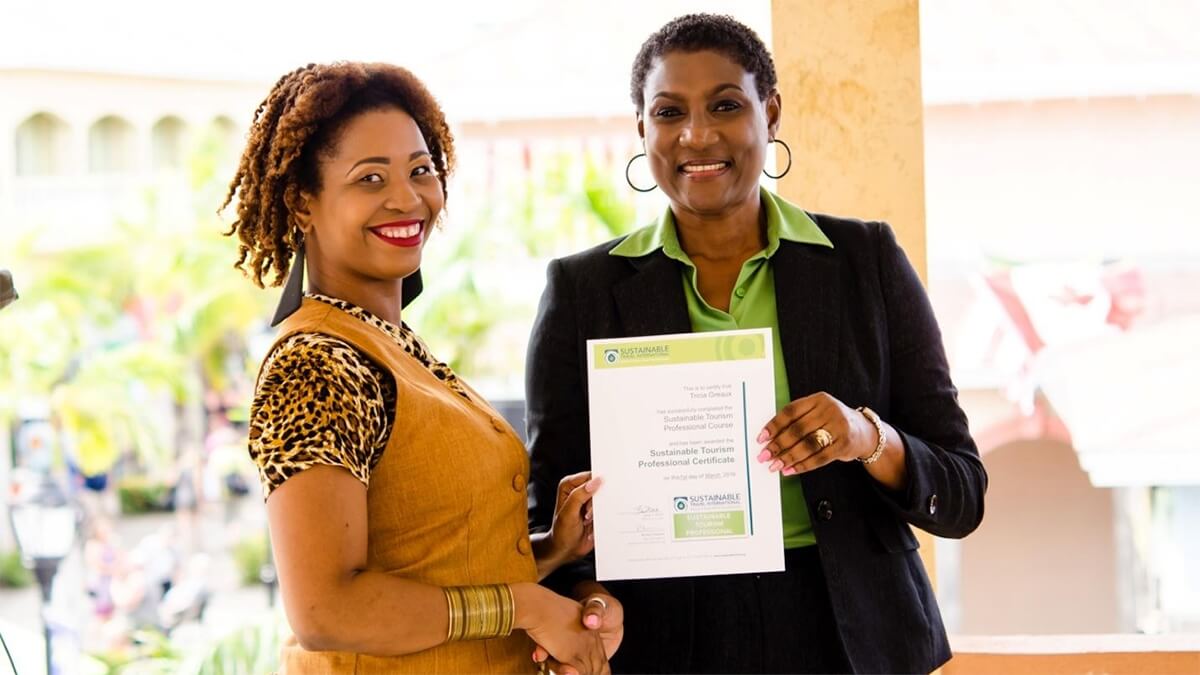 Getting to Know the St. Kitts Sustainable Destination Council: Tricia Greaux
Marine Management Area (MMA) and Habitat Monitoring Officer, St. Kitts and Nevis Department of Marine Resources
From her job title, it will likely come as no surprise that marine conservation is major part of Tricia's life. Tricia's fascination with marine animals and appreciation for the environment started at an early age, and only grew stronger as she got older. A desire to protect marine habitats led Tricia to pursue a career path in marine biology and later to her current role at the St. Kitts and Nevis Department of Marine Resources. As the department's Marine Management Area and Habitat Monitoring Officer, Tricia is actively involved in marine resource management and helped get St. Kitts' first Marine Managed Area declared in August 2016.

The marine environment also inspires other areas of Tricia's life and she uses creativity to spread her passion for the sea. As the Creative Director of the Anjolique Dance Company, Tricia choreographs themed dances that raise awareness of social and environmental issues and encourage conservation action. One of the dance pieces urges people to play a role in reducing lionfish, an invasive species causing harm to marine ecosystems in the region. Dance is not the only hobby where Tricia combines creativity with biology. She also enjoys making jewelry and even has her own environmentally-inspired jewelry line, called Creative Cultured Creations, or Creative 3C.
Given her passion for environmental sustainability, Tricia was a perfect candidate to join the St. Kitts Sustainable Destination Council (SDC). Tricia has observed firsthand how the SDC has transformed the way that different government departments and agencies work together, so that they are no longer operating in a vacuum. "One of the first SDC meetings revealed that two agencies with a similar mandate were initiating an identical activity," says Tricia, "Thanks to the collaborative efforts of the SDC, both were able to partner and utilize the resources effectively to complete the objective."
Tricia feels that through its capacity-building activities with the private and public sectors, that the SDC has made great strides in raising awareness of the meaning and importance of sustainability. Through the SDC, Tricia has participated in and led various sustainability trainings and outreach events, sharing information on marine and coastal conservation.
She has also noticed a change in her own understanding of sustainability. "The Sustainable Tourism Professional (STP) Certificate training helped me to envision possibilities that exist for sustainability of coastal and marine habitats from a new lens, and not just that of a Marine Biologist."
Tricia plans to stay involved in the SDC through the upcoming expansion of St. Kitts' Marine Managed Areas and looks forward to developing new synergies to help further sustainability in St. Kitts.
This post is part of the "Getting to Know the St. Kitts Sustainable Destination Council" blog series. View the series here to learn about some of the other members of the SDC.  
Tags: caribbean, environment, Getting to Know the SDC, marine conservation, marine resource managment, SDAA, St. Kitts, sustainable destination council
Trackback from your site.