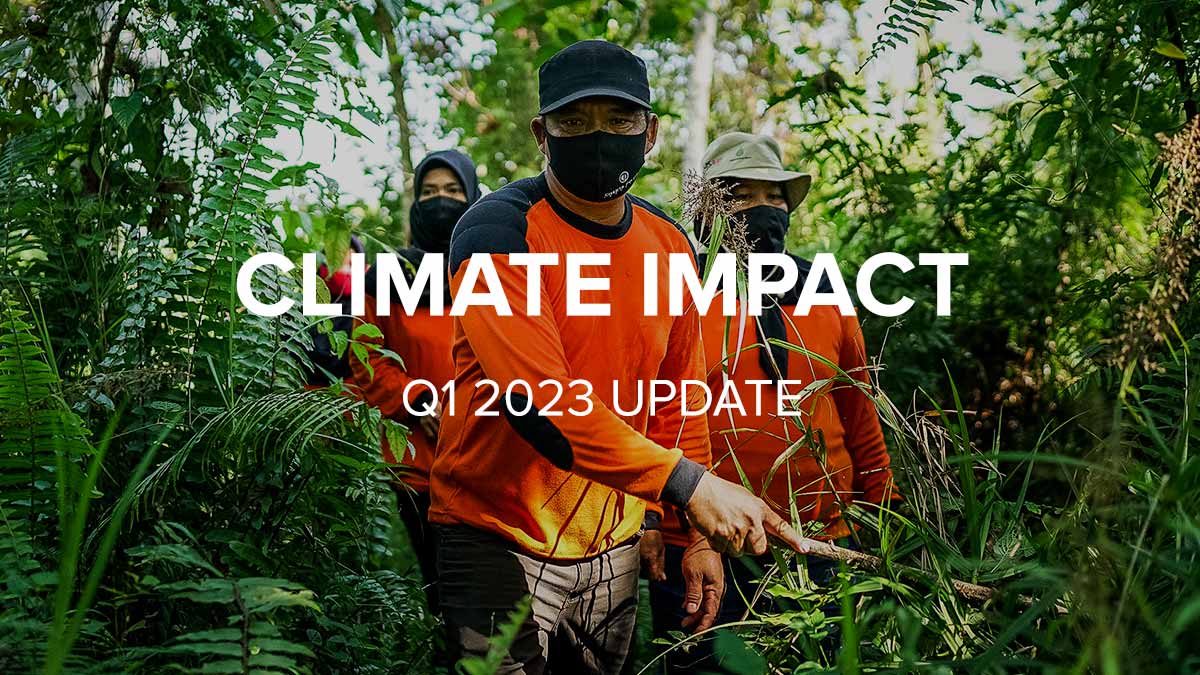 Climate Impact Update – Q1 2023
In Q1 2023, our network offset 9,934
 metric tons of carbon with us. Read on to discover how these carbon offsets are catalyzing climate action around the world.
We retire carbon credits on a quarterly basis and are committed to providing transparency about the projects supported. Carbon offsets purchased in Q1 of 2023 were distributed across the following portfolio of forestry, energy, and blue carbon projects.
Carbon Dioxide Equivalent (CO2e) by Project Type
Explore the Projects
Our Q1 2023 carbon offset portfolio was composed of three climate projects: Katingan Mentaya Project, San Clemente Hydro Power, and Trocano Araretama Conservation Project.
Read on to learn more about each of these projects and how much carbon we offset on behalf of our network.  
  Blue Carbon   
  Indonesia     
  5,200 MT of CO2 Offset
Protects and restores one of the largest remaining peat swamp forests in Indonesia. Massive stores of carbon are locked beneath the swamp's surface and the aboveground forest is home to over 5% of all Bornean orangutans and proboscis monkeys.
  Energy   
  Chile    
  2,244 MT of CO2 Offset
Supports the construction and operation of a small-scale hydroelectric plant. By generating renewable energy for the Chilean national grid, the project avoids emissions from fossil fuels. 
  Forests    
  Brazil     
  2,491 MT of CO2 Offset
Protects a vast area of natural forest along one of the Amazon's largest tributaries. The project addresses key drivers of deforestation such as illegal logging and slash-and-burn agriculture. 
Tags: business climate action, carbon offset quarterly portfolio